PEDICURE BAEHR TEC A1200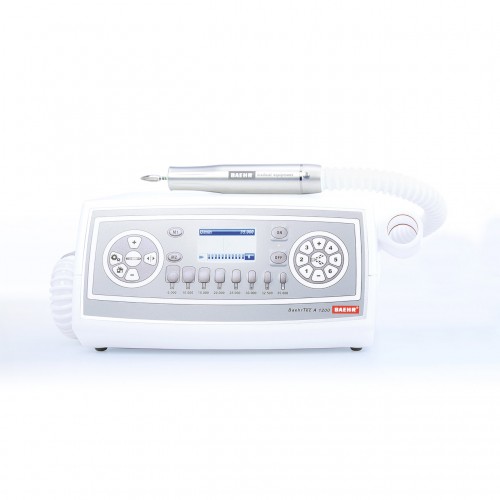 Operating voltage: 110 – 240 V AC voltage

Controller weight: Mix approx. 2,100 g

Handpiece dimensions: (W x min. diameter x max. diameter) in mm ~117 x ~19 x ~24

Operating voltage: 110 – 240 V AC voltage

Frequency: 50 – 60 Hz

Accuracy of the speeds 6,000 – 10,000 rpm, tolerance +/- 25 %

10,001 – 20,000 rpm, tolerance +/- 20 %
20,001 – 35,000 rpm, tolerance +/- 10 %

Medical device according to RL 93/42 EWG class 2a

Made in Germany

2 years warranty. (except for wear parts)

Full Manual available on request

The core: High performance efficiency is generated at the heart of the BAEHR TEC A 1200 by the two brushless extraction turbines. The first turbine sucks in the air and compresses it directly. In the second turbine, the compressed air is compressed again, whereby an enormous suction power is achieved. The compact design not only ensures lightness, but also the extremely space-saving dimensions of the BAEHR TEC A 1200.
Turbine air flow rate up to 500 l / min and max.Negative pressure of about -70 mbar
Especially quiet in operation pleasantly quiet working atmosphere at 45 - 53 db
Low power consumption of only 80 watts together with excellent efficiency
Long service life and almost wear-free
The aluminum handpiece: Made of high quality aluminum, the handpiece is not just a visual highlight. It is incomparably in the market and impresses with superlatives. The dry technique handpiece is currently the lightest and shortest metal handpiece with on / off switch and in combination with highest ergonomics a real miracle in handling.