Kepro Kaypro Liss System Tecni-Sleek KIT disposable straightening protocol kit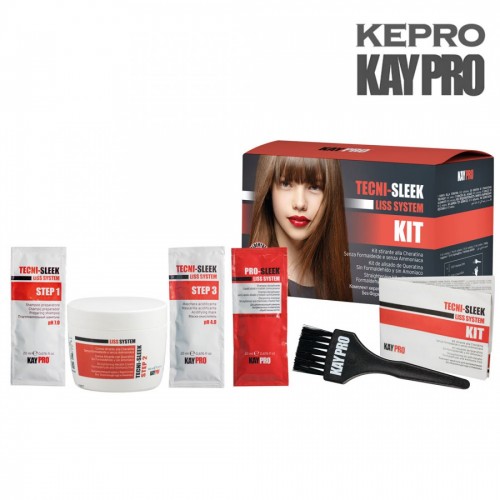 The kit includes:
1. Preparing shampoo 20ml
The special formula with pH 7.0 creates the ideal condition for opening up the scales.Cleanses the hair in depth, leaving the stem free from mineral impurities and sebum and prepairing it to receive the straightening treatment. Use: apply to wet hair, massage and rinse. Repeat and proceed to STEP 2.
2. Straightening keratin cream 100ml
Free of formaldehyde and ammonia. Suitable for all hair types, fast and safe. Gently straightens hair, removes curls and strengthens the hair structure. Wear gloves during use.
Use: Dry your hair with a hairdryer, apply the cream to the hair one by one, starting from the back of the head, the strand should not be wider than 1.5 cm. After applying the cream, leave the hair straight for 30 minutes without pinning it. Blow dry your hair. Then, starting at the back of your head, straighten each section 6-7 times at 220 ° C. When finished, let your hair cool for a few minutes. Rinse with plenty of water and go to STEP 3.
3. Acidifying mask 20ml
Acidifying mask. Specifically formulated to conclude the straightening treatment, thanks to the acid pH that seals the cuticle and fixes the straightening molecules. This effective sealing, soothing and protective action leaves hair soft, hydrated and shiny. Use; apply to towel-dried hair, leave on for 2-3 minutes, rinse and dry.
4. PRO-SLEEK Disciplining shampoo 20ml, for straightened and chemically treated hair.